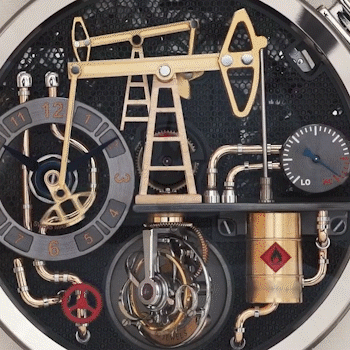 Source of inspiration
Perfectly describes the Oil Pump. It's a traditional automaton with a contemporary subject-the oil industry. The two derricks move on demand, and there is even an "oil reserve" on the dial of the watch.
Double-axis tourbillon
The first axis makes a full revolution in 60 seconds, while the second axis makes a full revolution in 2.5 minutes. The power reserve for this fine watchmaking movement is 80 hours.
Automata
The pusher at two o'clock starts the two derricks moving, pumping up and down. The Oil Pump modernizes the automaton with two oil derricks that move in unison. Depressing the pusher charges the power reserve for the automaton and sets them into action.
Case
The 1.94in rose gold case features a domed, double anti-reflective sapphire crystal on top. The watch is set and wound via two rose gold bows in the case back.
Dial
The dial is a grill evocative of oil rigs, offering a glimpse of the high-watchmaking movement underneath. A system of rose gold pipes and wheels connects the various elements above the grill, including an "oil pressure gauge" power reserve and a rose gold oil reservoir.
Product information
Movement: Exclusive Manufacture Jacob & Co
Manual Winding: JCAM33
Diameter: 1.94in
Height: 0.59in
Material: Steel, brass, and titanium
Power Reserve: 80Hours
Frequency: 21'600 vib/h (3 Hz)
Finishing: Shot-blasted and Black PVD finish